What's Wrong With Gated Communities?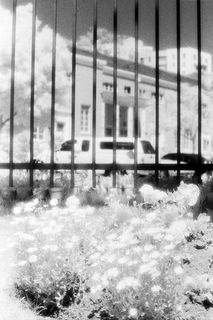 Gated communities are not a black-and-white issue. Many who live inside them, like those on the outside, have strongly mixed feelings. We at Heavy Trash respect the reasons some choose to live in enclosed enclaves, and we equally respect the reasons many choose not to. We also appreciate why many people do not want walled fortresses dividing their neighborhoods or blocking off what would otherwise be public streets and sidewalks.
When developers market gated communities, they often emphasize core features like safety, property values, community spirit, services, and amenities like pools and clubhouses. In a nation where our trust in government and each other is at a low, closed neighborhoods secured by strong homeowners' associations, solid walls, uniformed security guards and cameras can be seductive.
The problem is, gated communities do not increase people's trust in each other or the overall quality of life. They may in fact do harm to both.
Robert Putnam, director of the
Saguaro Seminar
at Harvard University, has written extensively about the loss of "social capital" in America. (By "social capital," he means people's sense of trust and inclination to do things for each other -- things that characterize successful communities.) Putnam and others have
quantified this decline
extensively. And among the causes he and others have identified is the privatization of our leisure time. Think how often we choose to watch TV in our own living rooms, for instance, over visiting with neighbors or participating in organized non-work-related activities.
While a sense of social decline can drive people into gated communities, what they find when they get there is often, ironically, more of the same. Citing research outlined in
"Fortress America: Gated Communities in the United States" by Ed Blakely and Mary Gail Snyder
in
Public Management 22, Vol. 80 1998
, Carol Tucker says:
". . . [T]he quality of community is no different in gated communities, Even though residents have moved to gated areas believing that they would find their nostalgic idea of community, they have not. In fact, these communities promote privacy within privacy: residents tend to stay in their own backyard and do not visit on porches or front lawns."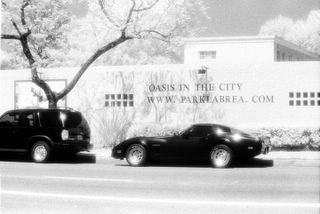 Moreover, gates send an unwelcoming message to the rest of us. They tell us that we are not to be trusted, that we are not part of the same social network as those inside the walls.
And worse, gates break up neighborhoods. Ungated streets that are maintained by the city and are publicly accessible often sit cheek-by-jowl with gated ones whose controlled access and private maintenance keeps them functionally very much apart. This separation is especially jarring when public throughways become restricted, as has happened in the Brentwood Circle neighborhood of L.A.
Author Peter Schrag, in
"Paradise Lost: California's Experience, America's Future,"
attributes the proliferation of gated communities in California in part to the aftermath of the 1978 anti-tax measure, Proposition 13. Proposition 13 severely restricted California's ability to raise revenues through property taxes and fairly eviscerated localities' ability to build or maintain public infrastructure. As a result, California went from being a world model of well-kept streets, parks, and transit systems to trailing much of the nation in these areas. Notable exceptions to this trend can be found in gated communities, where ample "community" (rather than public) amenities can be paid for by substantial homeowners' association dues and/or special assessments. Ironically, residents of these areas still pay the taxes we thought we were voting away with Proposition 13 -- only now they call them by different names and restrict the benefits to those who live behind the walls. The result is further decline in the world outside the gates, and this, in turn, creates more incentive to build self-funding, self-contained communities.
Ultimately, it is clear that gated communities are a desperate, if earnest, response to the decreasing trust and investment in our society -- but one that sadly ends up hurting both trust and public investment even more. Gated communities perpetuate a vicious cycle.
How Can We Build Communities Without Gates?